Burna Boy sold an incredible 12, 000 tickets for his O2 concert in London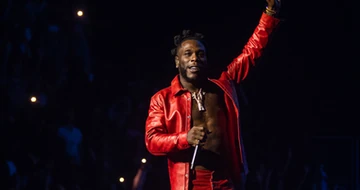 On August 27, 2021, Nigerian superstar, Burna Boy performed before an ecstatic crowd at the O2 Arena, in London, England. He was supported by Rema, LadiPoe, Ruger and more as he thrilled his audience with his famous energetic and dedicated routines and those moments created viral social media content.
Hours later on August 30, Burna Boy took to his Instagram stories and wrote that, "I sold out the O2 by myself, at prices that I wanted. The way I wanted. Never talk too much, just show action."
RECOMMENDED FOR YOU
Several sources, including Diane Aidenbaum, who supported Burna Boy's show confirmed that the show was performed in front of an incredible 12,000 people.
The O2 has a sitting capacity of 18,000 to 20,000.
According to the O2's official website, Burna Boy's Twice As Tall event will be the first event in The Welcome Back Show series which also features Ministry of Sound Classical November 13, 2021 and UK comedian Mo Gilligan + Friends with 'The Black British Takeover' on December 8, 2021.